It's Saturday guys!! The weather is crappy again, so for me it seems like the perfect reason to film a video! If you're looking for something to do today, you might like my rainy day post which you can check out riiight
here
!
Who can resist Nutella? It is just so perfect and delicious. I happen to be one of those people who could eat a few spoons right out of the jar-it's the main ingredient in Ferrero Rocher for crying out loud! Here are a few superly yummy Nutella recipes you might like to try if you fancy something delicious! :) I'd like to add also, if you're on a diet and this is making you sad, I'm sorry :( but everyone deserves a little treat every now and then!
Nutella Yoghurt/Parfait
I love making chocolate parfait so I thought, oo I bet someone has a recipe for Nutella Parfait! Check this out-it's amazing and soo easy to make! Just click the pic below to take you to the recipe :)
Nutella Ice Cream
Ermergerd, this just looks amaaazing agh! How could anyone resist?
Again, just click the pic to see the recipe! :)
Yummy Nutella Milkshake
Yummy, yummy yum just YUM! I looove milkshakes. I think I'll need to make this after I'm done the post haha!
Nutella Hot Chocolate
Finding it hard to handle this right now. Oh my gosh. With the weather the way it is, why not try and make this to lift your spirits a little!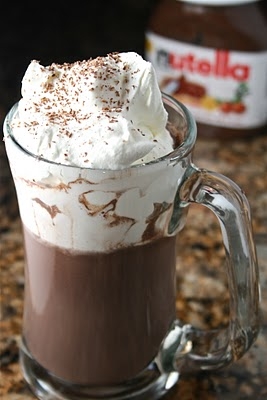 Nutella Mug Pudding
Yum yum yum! How delicious does this look? And you can make it in a mug-how convenient!
Was this list helpful to you guys? I'd love to know! I spent ages scouring the interweb to find the best recipes, so I hope these turn out well for everyone!
Thanks so much for reading, and keep an eye out for some new videos later on!
Soph x